Product Information / OMX-ADM
Evaluation for deodorizing at hospitals or nursing homes etc.
Handheld Odor Meter OMX-ADM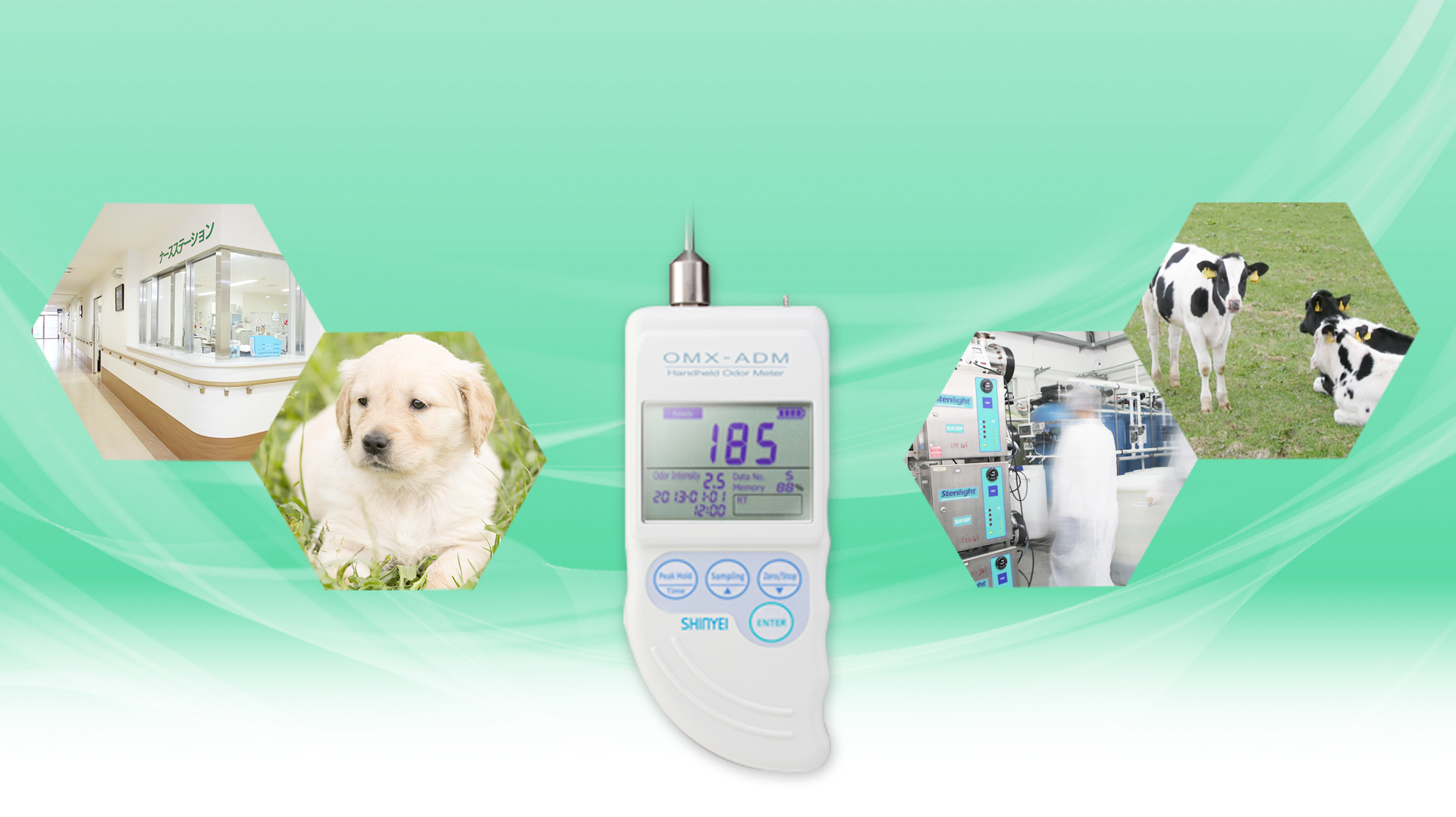 Handheld Odor Meter is highly sensitive.
Simple and
easy to
measure odor
Just turn
the switch on
Data can be
stored up
to 511 files
Data logging function with
large capacity
Data can be graphically
illustrated by
Data filing software
Handheld Odor Meter OMX-ADM is appropriate for detecting pet odor and putrid smell, checking the effect of deodorization before and after cleaning in hospitals and nursing houses.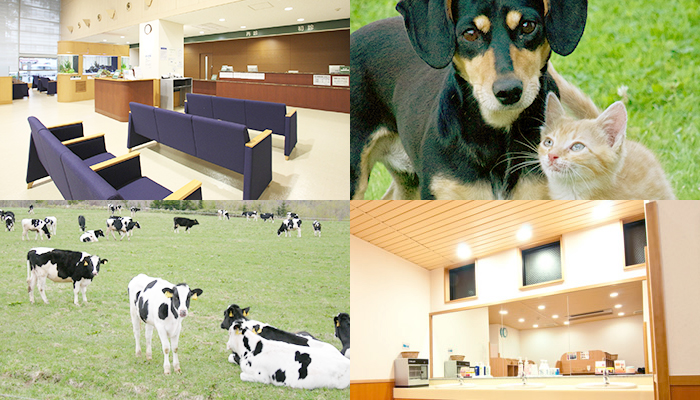 Display odor strength level in numeric values.
Display odor intensity which is converted into ammonia concentration.
Detect odor in manufacturing and converting factories.
Measure pet odor and smell of excrement.
Check the effect of deodorization before and after cleaning at hospitals and nursing houses.
Measure garbage odor level in garbage disposal plants, restaurants and fish markets.
Monitor smell of compost in livestock plants.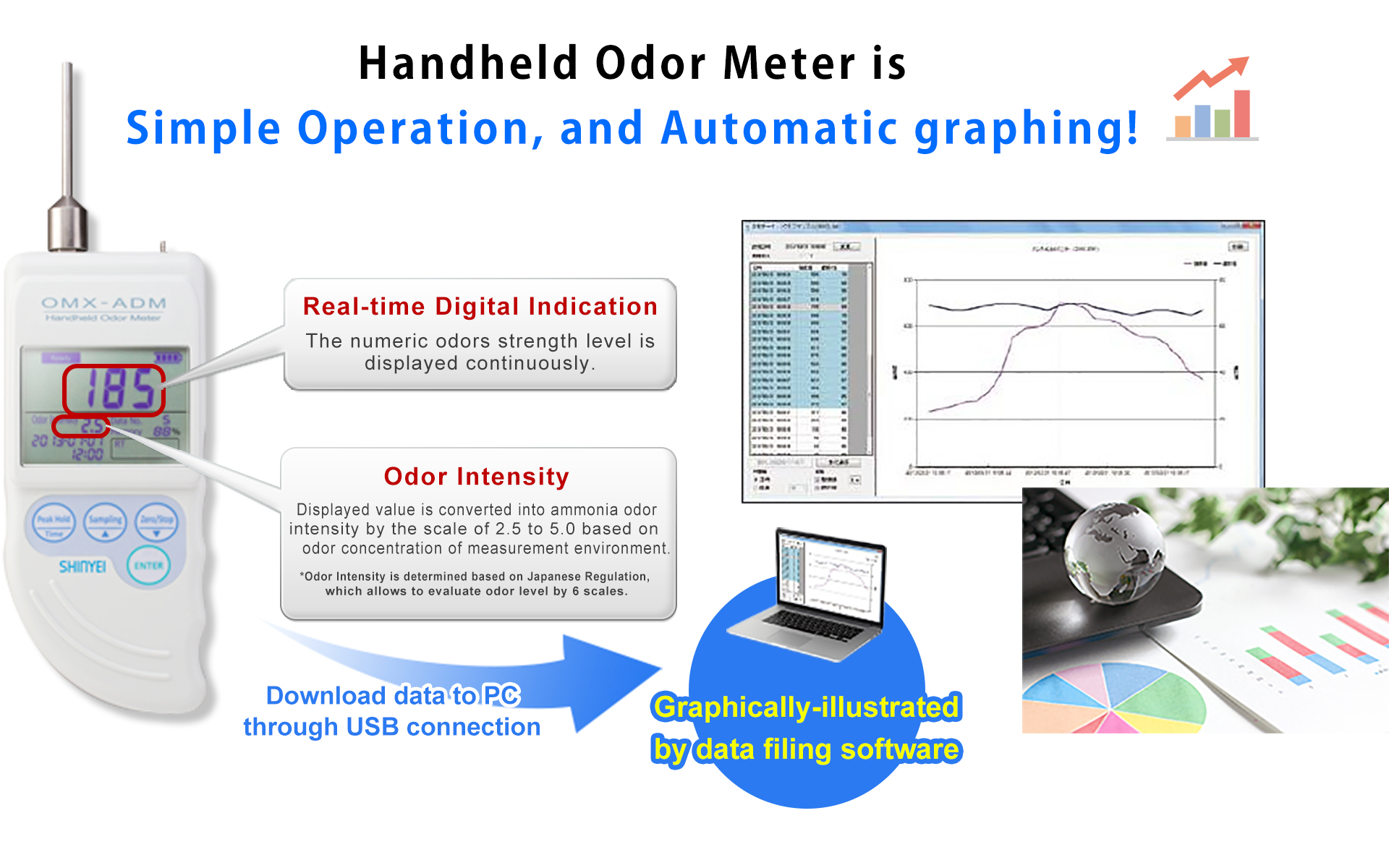 Real-time Digital Indication

The numeric odor strength level is displayed continuously.

Odor Intensity(*)

Displayed value is converted into ammonia odor intensity by the scale of 2.5 to 5.0 based on odor concentration of measurement environment.

*Odor Intensity is determined based on Japanese Regulation, which allows to evaluate odor level by 6 scales.
Notice:
a) OMX takes odor sampling by using inner pump and shows odor strength level.The strength level is calculated by our original formula using two types of gas sensors that responds to different types of gases.
b) OMX detects complex odor and convert it to odor strength level, which means it doesn't classify types of odor.
c) The strength level showed in OMX doesn't correlate with human sense of odor.
d) OMX does not detect odor well if the gas concentration is not high enough for the device.
Specification
Model Name
OMX-ADM
Detection Method
Two Semiconductor Gas Sensors
Sampling Method
Continuous Sampling with Built-in Air Pump
Object Gas
Hydrogen Sulfide, Methyl Mercaptan, Ammonia, etc
Odor Strength Level
0 - 999
Classification
Odor Intensity 2.5~5.0
Power
4×AASize Alkaline Batteries or AC Adaptor
*Battery life for continuous measurement is approx. 7 hours.
Memory Capacity
Up to 32,732 Data
Memory Partition
Up to 511 Files
Operating Temperature
0 ~ 40℃(32-104F) *No Dew Condensation
Storage Temperature
-10 ~ 50℃(14-122F) *No Dew Condensation
Dimensions
W74 X L167.5 X D35mm approx.
Weight
250g approx. (Without Batteries)
Accessories
USB Cable, Air Purifying Unit, Activated Carbon, 4×AA Size Alkaline Batteries, AC Adaptor